B.B.B.F.F.[1][2] (Big Brother Best Friend Forever) is a song that is featured in the episode A Canterlot Wedding - Part 1. Twilight Sparkle first sings it when she explains to her friends that her brother, Shining Armor, was the only pony she trusted as a friend before she was sent to Ponyville. Later in the episode, when she was afraid she had "lost a brother" because of an argument, she sings a somber, much shorter reprise. The song is notable in being Twilight's first solo song. Meghan McCarthy stated that she was inspired by the relationship her daughter has with her older brother.[3]
Production and re-use
The song's composer, Daniel Ingram, used a cadence known as a "deceptive cadence" rather than an "authentic cadence" to finish the reprise as an "inside joke".[4] The non-reprisal version ends on an authentic cadence, D flat major, rather than a deceptive one (B flat minor). In a (now deleted) tweet, Daniel Ingram mentions that Rebecca Shoichet was lightly autotuned to produce a "harmonizing effect."
This song is the ninth track on the Songs of Friendship and Magic soundtrack album, although the liner notes miscredit this song as appearing in A Canterlot Wedding - Part 2, and where its lyrics would appear in the booklet, the lyrics to This Day Aria, Part 1 are listed instead. It also serves as the fifth track on the My Little Pony 2015 Convention Collection.
Lyrics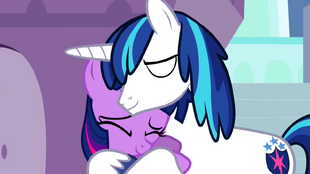 [Twilight Sparkle]
When I was just a filly, I found it rather silly
To see how many other ponies I could meet
I had my books to read, didn't know that I would ever need
Other ponies to make my life complete
But there was one colt that I cared for
I knew he would be there for me
My big brother, best friend forever!
Like two peas in a pod, we did everything together
He taught me how to fly a kite (Best friend forever!)
We never had a single fight (We did everything together!)
We shared our hopes, we shared our dreams
I miss him more than I realized
It seems...
[Applejack, Fluttershy, Pinkie Pie, Rainbow Dash, and Rarity]

Your big brother, best friend forever
Like two peas in a pod, you did everything together
[Twilight Sparkle]

And though he's, oh, so far away
I hoped that he would stay
My big brother best friend
Forever...
Forever...
Reprise
[Twilight Sparkle]
He was my big brother, best friend
Forever...
And now, we'll never do anything
Together...
Other versions
References