The Cupcake Song is a song sung by Pinkie Pie in Call of the Cutie. She sings it to Apple Bloom to explain how to make cupcakes, so she can attempt to earn her cutie mark. It is one of two tunes included on the My Little Pony Musical MP3 Microphone toy.[1]
Lyrics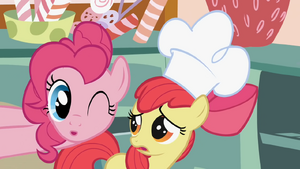 [Pinkie Pie]

All you have to do is take a cup of flour
Add it to the mix
Now just take a little something sweet, not sour
A bit of salt, just a pinch
Baking these treats is such a cinch
Add a teaspoon of vanilla
Add a little more, and you count to four,
And you never get your fill of...
Cupcakes! So sweet and tasty
Cupcakes! Don't be too hasty
Cupcakes! Cupcakes, cupcakes, CUPCAKES!
Notes and references