This page is an archive. Do not edit the contents of this page.
Direct any additional comments to Forum:Wiki discussion.
This discussion is on hold pending a conversation with a Wikia Director in regards to changes to the site. Please do not participate in this discussion until it is reopened by an administrator.
Greetings everyone!
We have an exciting opportunity to add Discussions to our Wiki. We have had a forum open for this before and although the general consensus was supportive of adding it, not enough discussion took place for the administration to be able to send it off to Wikia for adding so I thought I'd explain what this feature is and what it could add to our Wiki.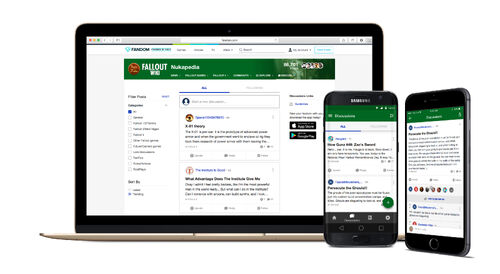 A Social Platform
We'd be introducing a new social platform to the Wiki and with the recent removal of chat, I think this is a good way to keep people visiting our Wiki. Especially with the new Movie soon to be released.
Requires Users to Register
This new feature will encourage people to register with our Wiki so they can participate in discussions with fellow fans of the franchise.
A New User Right
Discussions will require moderation and this is something that Administrators will have (by default) the ability to do. A new user right will also become available known as "Discussion moderators".
Discussion moderators have the ability to do the following:
Removing and restoring threads and replies from any user.
Closing and reopening threads
Manage Forum boards, move threads from one board to another, and highlight and un-highlight threads.
Moderating chat (not relevant to this Wiki)
Deleting blog comments
Editing and deleting article comments
Moderating the Discussions feature, if enabled.
What do you think?
I personally believe the addition of discussions will only be of a benefit to the Wiki. It'll encourage numbers to the site and will be a place where people can come and openly communicate with one another on the Wiki. It wouldn't have any downsides, people don't have to use it if they don't want to so what is the harm?
FAQ
Would this replace forums? No, we would still use our forums.
Does this replace chat? No, we already have a chat replacement service on Discord.
Who will be our discussions moderators? As Administrators by default have the ability to manage discussions, I'm proposing we keep it that way until suitable candidates present themselves and prove themselves as valuable contributors to discussions.
Is it portable? Yes - Discussions can be used on a computer, tablet and mobile phone.
Discussion

Support - Per my reason above, there is no reason why we shouldn't have it and if anything, I feel it will only add more value and more contributors to our site.
343TheGuiltyProphet
- Contact
11:02, September 15, 2017 (UTC)
Closed - Following the general feel about discussions that I sensed from people on Discord, I have decided to withdraw this forum for now.
343TheGuiltyProphet
- Contact
12:27, September 17, 2017 (UTC)