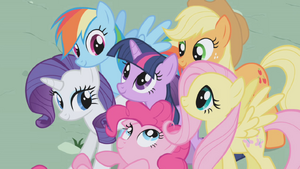 After the events of Friendship is Magic, part 2, Princess Celestia gives Twilight Sparkle a new mission: to study the "magic of friendship" and report her discoveries. At the end of each episode, Twilight or her friends relay a report on friendship. The report is usually dictated by Twilight and transcribed by Spike, who then magically sends it by breathing green-colored fire on the scrolls. At times when Princess Celestia happens to be around, Twilight makes the report in person.
Spike, take a note, please. "I, Princess Celestia, hereby decree that the unicorn, Twilight Sparkle, shall take on a new mission for Equestria. She must continue to study the "magic of friendship". She must report to me her findings, from her new home... in Ponyville.Princess Celestia
Starting with Lesson Zero, Princess Celestia exempts Twilight from writing a report every week, and asks that Twilight and all her friends report on their findings upon their discovery.
From this day forth, I would like you all to report to me your findings on the magic of friendship, when, and only when, you happen to discover them.Princess Celestia
Friendship letters are less prominent in the third season onward; lessons are mostly delivered through dialogue. After the events of Magical Mystery Cure, Twilight and her friends stop sending reports to Princess Celestia altogether, and instead log their lessons and other events of note in a shared journal following Twilight's suggestion in Castle Mane-ia.
I've just thought of a great idea! Why don't we keep a journal, just like the royal pony sisters? [...] That way, we can learn from each other! And maybe some day, other ponies will read it and learn something, too!Twilight Sparkle
After the events of My Little Pony Equestria Girls: Rainbow Rocks, Sunset Shimmer begins writing friendship reports to Twilight from the human world.
Season one
Season two
Season three
Season four
Season five
Season six
Season seven
Season eight
Season nine
Films
Other media
References