Out On My Own is the first song of season six of My Little Pony Friendship is Magic, featured in the fourth episode On Your Marks. This song marks Apple Bloom's first solo in the series. In this song, after the Cutie Mark Crusaders go their separate ways, Apple Bloom tries to learn some new skills on her own.
It appears as Side B's eighth and final track on the vinyl album Explore Equestria: Greatest Hits, under the title On My Own.
Lyrics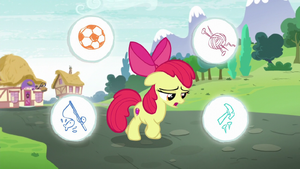 [Apple Bloom]

I never imagined myself out on my own
Tryin' to find out what's next for me
The Cutie Mark Crusaders have always been my home
Maybe now there's more that I could be
I guess as time goes by
Everypony has to go out on their own
And maybe someday I'll have to try
Somethin' new that's just for me
A little somethin' that could be
Just my own and I won't feel so left behind
We used to say that we'd be always side by side
Maybe things are changin' and this could mean goodbye
I always thought our friendship was all I'd ever need
We've always been crusadin' – what else is there for me?
I guess as time goes by
Everypony has to go out on their own
And maybe someday I'll have to try
Somethin' new that's just for me
A little somethin' that could be
Just my own and I won't feel so left behind
Other versions