For the titular comic book superheroes, see Power Ponies (characters).
Power Ponies[note 1] is the sixth episode of the fourth season of My Little Pony Friendship is Magic and the seventy-first episode overall. In this episode, Spike and the Mane Six are sucked into a comic book world and must defeat a maniacal supervillain in order to escape.
Production and development
On July 20, 2013, an animatic clip of this episode was shown at San Diego Comic-Con International. In the clip, Applejack/Mistress Mare-velous, Fluttershy/Saddle Rager, Pinkie Pie/Fili-Second, Rainbow Dash/Zapp, Rarity/Radiance, Spike/Hum Drum, Twilight Sparkle/Masked Matter-Horn, the Mane-iac, and more characters appear.[1][2]
Marcel Duperreault, Todd Araki, Jason Fredrickson, and Adam McGhie won a 2014 Leo Award for their work on this episode for "Best Overall Sound in an Animation Program or Series".[3][4]
This episode's original cut was 32 minutes long, however 10 minutes of footage were removed due to time constraints.[5]
A small part showing Pinkie in her Fili-Second costume reappears in Cakes for the Memories.
The scene when Fluttershy becomes angry and grows after Mane-iac harms a firefly reappears in Memnagerie.
Summary
Late night reading
Twilight Sparkle is asleep in her bed when she's stirred awake by a lamp switching on. She sees Spike reading a comic book and tells him to go to sleep, but Spike asks for two more minutes. He proceeds to talk at length about the Power Ponies, their sidekick Hum Drum, and the evil Mane-iac. Twilight sympathizes with Spike's investment in a book, but states they'll need to be well-rested to help fix up Princess Celestia and Princess Luna's old castle in the morning. Spike relents and goes to bed, but when Twilight sees him fumbling in the dark for his comic, Twilight allows him two more minutes to read.
Diving into a comic
The next morning, Twilight and her friends take part in refurbishing Celestia and Luna's old castle. Spike wishes to pitch in, but the ponies politely decline. Twilight tells him to find someplace quiet to read his comic, and Spike shuffles off, feeling useless.
Spike goes to Celestia and Luna's reading room to read, sympathizing with the bumbling Hum Drum. When he suddenly reaches the end of the comic, he finds a footnote in small, hard-to-read text. As Twilight and the others take a break from cleaning and come looking for Spike, he uses a magnifying glass to read the footnote:
"You can return to the place you started when the Mane-iac is defeated. Take a closer look to join the adventure in this book.."
— Spike
This causes a magic spell in the comic book to come to life, and Spike is sucked inside its pages. Twilight and her friends, in their attempt to save him, get dragged inside as well, except Pinkie who just jumps in after them.
Welcome to Maretropolis
Spike, now in superhero attire, regains consciousness on the roof of a building in Maretropolis. Behind him, he sees his pony friends in superhero attire as well and recognizes them as the heroes in his comic—the Power Ponies.
Suddenly, there's an explosion at the museum across the street, and the Mane-iac emerges from the smoke, laughing maniacally and holding an orb surging with electricity. When Applejack and Rainbow Dash wonder what's going on, Spike explains that they were transported into his comic book and that the only way out to defeat the Mane-iac. The Mane-iac attacks the ponies with a pretzel cart and a mailbox; as Pinkie Pie dodges the mailbox, she demonstrates the super speed of her Power Pony persona Fili-Second.
Applejack tries to wrangle the Mane-iac with her lasso, but it works against her, and she pins herself to a lamppost. Twilight's attempts at using the Masked Matter-Horn's powers fizzle, Rainbow uses Zapp's powers to create a tornado instead of lightning, Rarity's powers as Radiance prove less than helpful, and Fluttershy's anger-based powers as Saddle Rager don't manifest because she's not angry. After watching in amusement, the Mane-iac takes her leave, but not before addressing Spike by his designated role as Hum Drum.
After Spike explains that the lasso Mistress Mare-velous uses is psychically connected to her, Applejack reins in the tornado with Mistress Mare-velous' powers, and Spike once again explains to his friends that the only way out of the comic book world is to stop the Mane-iac from using her doomsday device. While Rainbow Dash is excited about having superpowers, Spike is less than thrilled about being the powerless Hum Drum. Twilight encourages Spike by saying he's not really Hum Drum, but he is still in low spirits.
Time to Power Pony up!
Spike leads the Power Ponies to the Mane-iac's headquarters: her shampoo factory. Before Twilight can come up with a plan, Rainbow Dash gives away her and her friends' position by zapping the building with lightning. As Spike stays back, the Mane-iac's henchponies emerge from the factory and attack. Despite Fluttershy's inability to get angry, the Power Ponies subdue and restrain the henchponies.
When the Mane-iac herself appears, she immobilizes the Power Ponies with her "hairspray ray of doom". She leaves Hum Drum behind, considering it pointless to use her spray on him. Spike watches helplessly as the Mane-iac and her henchponies take the Power Ponies prisoner.
The sidekick saves the day
Spike sneaks into the factory through an air duct, all the while calling himself useless, and finds his friends still immobilized and inside a big cage. Each time the effect of the spray wears off, one of the henchponies sprays them again.
The Mane-iac uses the Electro-Orb to power her hair dryer-shaped cannon, and tells the Power Ponies her plan to use it on them and the citizens of Maretropolis and cause their manes to grow wildly. When Fluttershy reminds her of Hum Drum, the Mane-iac once again dismisses the little guy as useless. The Power Ponies disagree, with Twilight noting that in their world, he always comes through.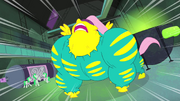 Encouraged by his friends' words of praise, Spike springs into action. As the Mane-iac monologues to the ponies in true villain fashion, Spike ensnares some of the henchponies in a large tarp and immobilizes more with the Mane-iac's hairspray, allowing the Power Ponies to break free. The ponies fight off the rest of the henchponies as the Mane-iac powers up her cannon to shoot Fluttershy who isn't trying to use her powers. When a firefly gets in the Mane-iac's line of fire and she swats it away, Fluttershy loses her temper, and the powers of Saddle Rager finally manifest, turning her into a large, muscular monster.
The Mane-iac fires her weapon at Saddle Rager, but its beam bounces back at her, and Saddle Rager smashes the weapon to pieces. The effects of the weapon entrap the Mane-iac in her own mane like a straitjacket. Spike declares the Power Ponies victorious, but doesn't finish his narration before the comic transports him and the ponies away.
Epilogue
Spike and the others are transported out of the comic book and back into Celestia and Luna's old reading room, returned to normal. As the ponies shake off the excitement of their latest adventure, Pinkie Pie offers the group cupcakes, which she picked up from the Maretropolis Bakery a half-second before their return home. Twilight commends Spike for his heroism, and Spike learns that he doesn't need superpowers to be a super friend.
When Twilight asks where Spike got the comic book, he says he got it in a store in Canterlot that sold "enchanted" comic books, not realizing that the comics were magically enchanted as opposed to telling enchanting stories. The ponies and Spike leave the room, and the comic book suddenly vanishes in a flash of white light.
Superhero theme
This is the show's second superhero-themed episode following The Mysterious Mare Do Well in Season 2. The references include:
Quotes
For more quotes, see the episode's transcript.
Pinkie Pie: Pony power!
Spike: Holy new personas, ponies!
The Mane-iac: Power Ponies! [laughs] How kind of you to join us!
Main cast: Huh?
Spike: Fluttershy! You're Saddle Rager! Lose your temper, and you'll turn into a huge super-strong monster!
Fluttershy: Oh, gosh! That wouldn't... be very... polite!
Rainbow Dash: I was already awesome! And now we've all got superpowers!
Twilight Sparkle: All right, Power Ponies, here's the plan. Rarity, you, me and—
Rainbow Dash: Come on out, Mane-iac! Or the Power Ponies are comin' in!
[thunder crash]
Twilight Sparkle: So much for "element of surprise".
Applejack: Time to Power Pony up!
Pinkie Pie: Ooh! Nice catchphrase!
Pinkie Pie: Tag you're it! Tag you're it! Tag you're it! Tag you're it!
Fluttershy: Are you kidding me? I mean, I know you're evil and everything, but [getting frustrated] you hurt a teensy, little, harmless firefly?! Really?! Well you're just a great, big, meanie! [voice getting deeper] There! I said it! What makes you think you're so special?! Like the rules of common courtesy don't apply to you?! [voice getting even deeper] Why don't you pick on somepony your own size?!
Pinkie Pie: Cupcakes?
Rarity: How did you—
Pinkie Pie: Eh, we had a good half second before we got sucked back out of the comic, and the Maretropolis bakery was only sixty-five blocks away!
Gallery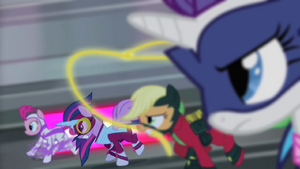 Notes
References
Feature films

Equestria Girls
Rainbow Rocks
Friendship Games
Legend of Everfree
My Little Pony The Movie
A New Generation
Specials

Dance Magic
Movie Magic
Mirror Magic
Forgotten Friendship
Rollercoaster of Friendship
Best Gift Ever
Spring Breakdown
Rainbow Roadtrip
Sunset's Backstage Pass
Holidays Unwrapped
Make Your Mark
Animated shorts

Rainbow Rocks shorts
Friendship Games shorts
Summertime Shorts
Equestria Girls: Better Together (season 1)
Equestria Girls: Better Together (season 2)
Equestria Girls: Choose Your Own Ending (season 1)
Equestria Girls: Choose Your Own Ending (season 2)
Equestria Girls Minis
Baby Flurry Heart's Heartfelt Scrapbook
Rarity's Peek Behind the Boutique
Fundamentals of Magic
My Little Pony Established 1983
Friendship is Magic shorts
Hello Pinkie Pie
Stop Motion Shorts
Tell Your Tale