For the finale, see We'll Make Our Mark.
We'll Make Our Mark (Prelude) is the sixth song of season five of My Little Pony Friendship is Magic and the first of six songs featured in the eighteenth episode Crusaders of the Lost Mark. In this song, Apple Bloom attempts to change the attitudes of her fellow Cutie Mark Crusaders in the search for their cutie marks.
Production
Amy Keating Rogers' inspiration for this song was "You Can't Stop the Beat" from the musical Hairspray.[1]
Lyrics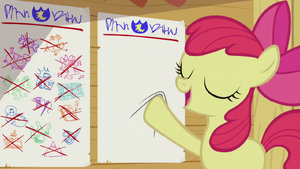 [Apple Bloom]

We've been searchin' for our cutie marks
For a while now
Tryin' to find out how we fit in
So many ways we've tried before
But we keep on tryin' more
[Cutie Mark Crusaders]

'Cause the Cutie Mark Crusaders don't give in
We'll make our mark
One way or another
We'll make our mark
On the day that we discover
The ultimate reward of our cutie marks!
References